With the Simplyhealth Great South Run almost upon us, over 20,000 runners will descend on Portsmouth on 17 October for the world's leading 10-mile running event.
With so many people in the city to celebrate a festival of sport, here are some essential hints and tips to get you through the weekend fuss-free:
1) Do Your Homework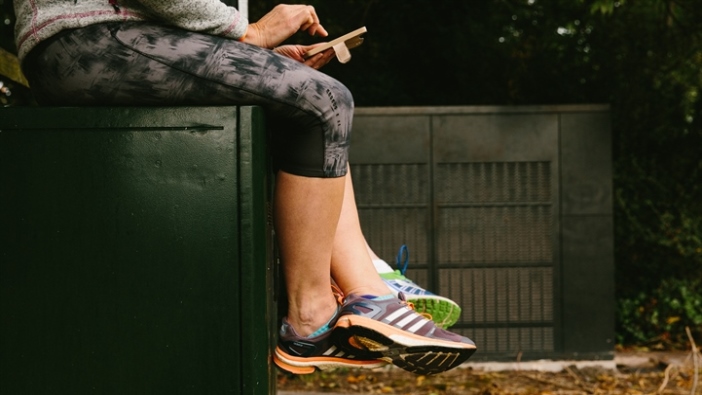 'Fail to prepare, prepare to fail' should be a mantra for any runner taking part in an event. Detailed road closure, parking and travel advice is all available across your Simplyhealth Great South Run magazine and on the website at Greatrun.org/South.
Make sure you have your plans nailed down so all you have to worry about on the day is the small matter of completing a 10-mile run. No sweat.
2) Use the Park and Ride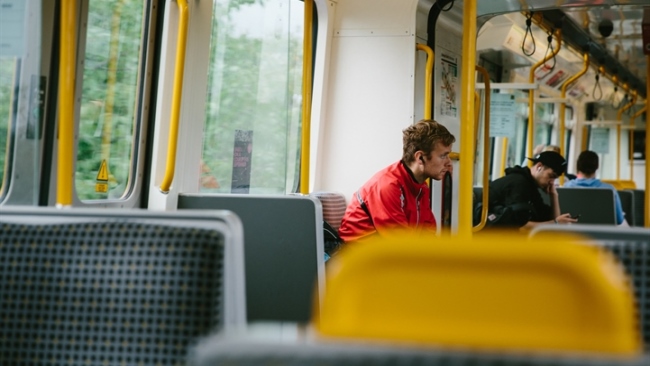 Portsmouth City Council are running a special Simplyhealth Great South Run Park and Ride service from the multi-storey car park at Portsmouth International Port on Sunday.
Buses will take runners and spectators to Clarence Pier – a short walk from the start line.
It costs just £4 per vehicle (up to 8 people per ticket), pay on exit.
For more information visit www.parkandride.portsmouth.gov.uk
3) Smile, you're on TV!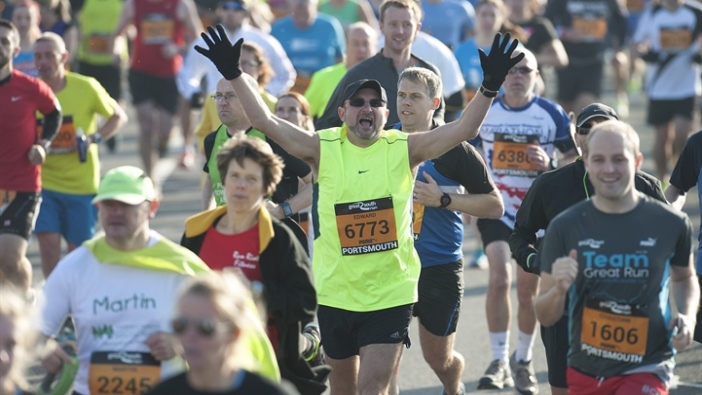 The Simplyhealth Great South Run will be live on Channel 5 on Sunday between 10.10am and 12.15pm. Set your recorders to catch all the coverage and watch it back later.
The programme is broadcast in HD so plenty of opportunity to spot yourself in the crowd!
4) No pack? No problem!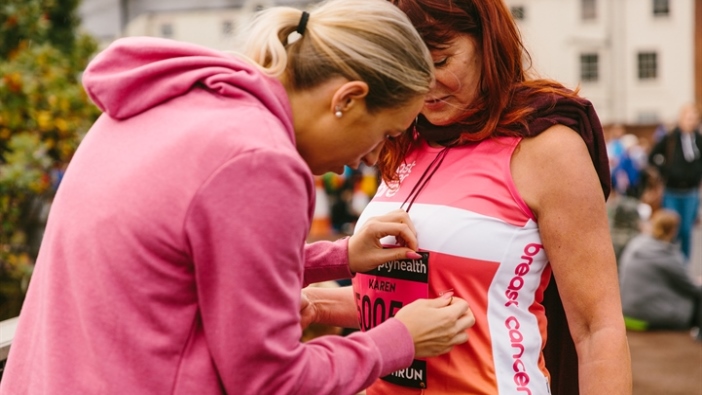 If your Simplyhealth Great South Run pack has not arrived yet, fear not – the Great Run customer service team can help you. Visit the customer service point – this is located adjacent to the skate park at the rear of the assembly area on Clarence Esplanade, for general enquiries and is open from 7.00am.
5) Get the Great Run App
Download the Great Run app from iTunes or Google Play. It's great for live tracking runners, handy maps, as a guide for spectators and a good excuse to use the special Simpyhealth Great South Run selfie filter!
6) Free Wi-Fi
There will be free wifi available to all runners and spectators on event day at both the start and finish areas. Simply locate 'Great Run Free Wifi' on mobile devices and enter your email address.
7) Visit the Charity Village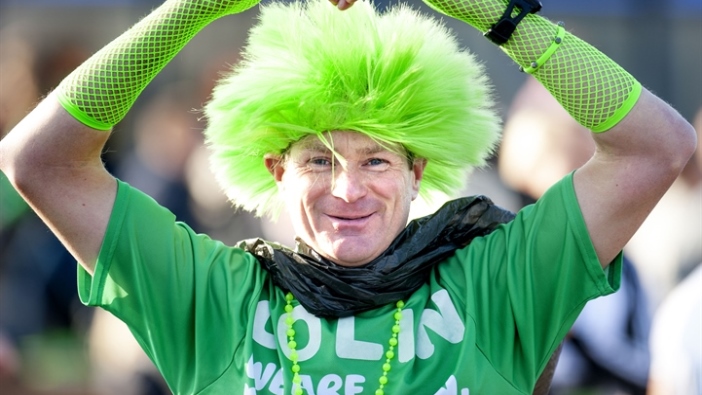 There are 20 charities with marquees in the Charity Village to meet and greet runners — with many providing food, drink and massage, making it a great place for post-run relaxation.
Make sure you contact your charity to see if they will be there on the day to say hello!
8) Meeting up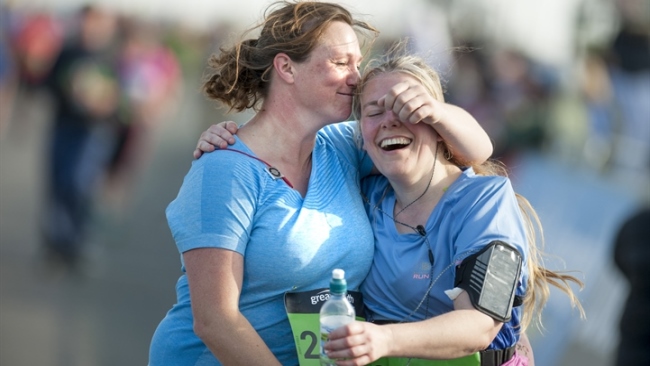 The family reunion area is within the charity village on Castle Field. Follow the signs and meet up under the A-Z banner that matches the first letter of the runner's surname.
If you choose to meet up elsewhere, make sure you plan this in advance of event day so everyone in your party is aware.
A missing persons' service will be in operation on the day on Castle Field and will be clearly signposted.
9) Pick a good spectator spot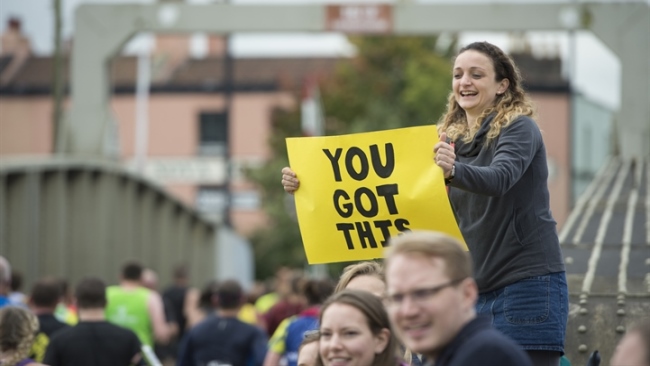 Spectators – we love you too!
A good vantage point for watching friends and family is along the Esplanade towards Clarence Pier.
The course goes past Gunwharf Quays, so why not wave at the runners as they pass by, then enjoy the cafés and shops as they take on the next eight miles?
Miles five to six also pass near the start and finish area along Clarence Parade, close to the cafés and shops in Southsea, so you can cheer your loved ones on before heading straight to the finish line to welcome them home.
10) Cheer on Claire Lomas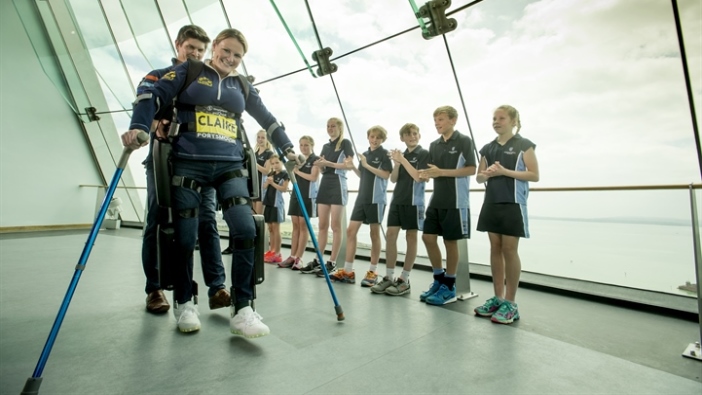 If you're in Portsmouth for the weekend, you're likely to see paralysed fundraiser Claire Lomas, who starts her Simplyhealth Great South Run on Saturday morning.
Claire is walking the event in a bionic suit over 24 hours as her #10in24 challenge – she will take on the exact route as the thousands of other runners, starting on Clarence Esplanade, travelling through Portsmouth Historic Dockyard and hitting those later miles in the middle of the night!
If you see her and her team, make sure you show your support to keep her going.
For further information about the Simplyhealth Great South Run, visit: Greatrun.org/South and download the Runner's Guide.