We've teamed up with Manchester blogger Frankie's Weekend to bring you her top 7 restaurants around the city where you can relax and refuel after the Simplyhealth Great Manchester Run.
She's bringing you 'post-run not posh, with carb-laden, delicious flavours and hearty portion sizes galore'.
A mix of cafes, pubs and indoor markets dotted around the city, it's the perfect opportunity to sample Manchester's best-loved eateries and explore this amazing city.
Here are Frankie's top 6 recommendations:
The Wharf, Castlefield
Get yourself across to Castlefield (not far from the finish line!) and order some hearty 'pub-grub'. If the sun's shining, they've got a lot of space outside so it's the perfect place to chill out for a few hours. Failing that and it does rain (it's Manchester, people…) inside is absolutely huge so getting a table shouldn't be a problem.
Evelyn's, Northern Quarter
Evelyn's is one of my all-time favourite spots in Manchester. I've written a separate blog post all about my recommendations, but in short, if you're a fan of botanical-industrial chic decor, hearty food with a healthy twist, you need to check it out. Favourites include: The crispy tofu and red pepper dhal, aubergine laksa with coconut, tuna poke and chicken skewers. Please also get the masala chips and saag paneer as these dishes are incredible.
Mackie Mayor, Northern Quarter
If you're with a large group of people and can't make your mind up on what food you want, I cannot recommend Mackie Mayor enough. Artisan food stalls galore, set in a really amazing space designed for socialising. From the people who brought us Altrincham market, this former market dates back to the 18th Century and is absolutely beautiful. The bao buns from Baohouse are fantastic – very tasty, if a little pricey for what they are (about £7 each). The fishfinger sandwich from Fin Fish Bar is very good, and I've heard good things about the steak sandwich from Tender Cow, if you eat meat! The pizza from Honest Crust's stand is not to be missed either. There's usually around four or five different variations and they're very reasonably priced.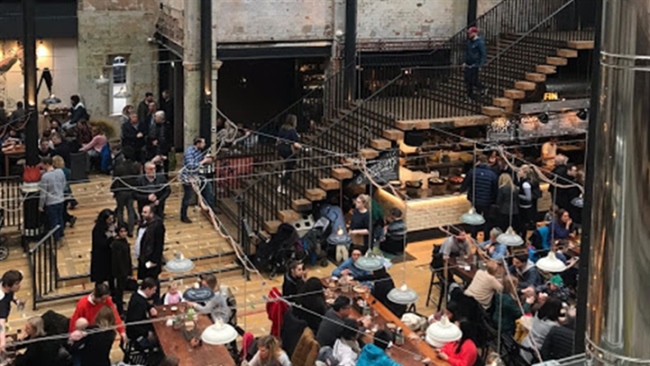 Leaf on Portland Street
Ahh, lovely Leaf. I used to work next door and would frequently pop in for coffee, brunch, lunch, tea… post-work drinks, the works. I've had the falafel and butterbean stew at least eight times and comes highly recommended. I'm also going to make a very bold claim here: their focaccia is the best I've ever eaten. The balsamic and oil glaze it comes with is life-affirming. I'd also recommend; the crispy fried salt and pepper squid, the Goan vegetable curry, Roast sweet potato, fig, feta and cashew nut salad (with fries, obvs) and falafel and halloumi flatbread. Breakfast wise, the shakshuka poached eggs and the veggie breakfast are equally as tasty.
Home Sweet Home, The Great Northern
If you're more of a sweet or dessert kinda person, Home Sweet Home is just the place. Again, conveniently located very close to the finish line (it's practically fate…), its menu of mouth-watering cakes, shakes, burgers and pancakes will not leave you disappointed. There's also one on Edge Street in the Northern Quarter, should this branch be full.
Federal Cafe, Northern Quarter
An Australian & New Zealand cafe bar, Federal has long been a go-to place for me to enjoy a lazy brunch (their brunch menu is served all day!) or lunch on a weekend. My personal favourites are; Emily's banana bread, French Toast (with whipped mascarpone and salted caramel omggg) and the Halloumi and Shrooms (my all time favourite – pan-fried halloumi, garlic and thyme mushrooms, free-range eggs, spiced tomato relish, hazlenut dukkah on sourdough bread). It's very small inside and so queues are often out the door but trust me, it's worth the wait.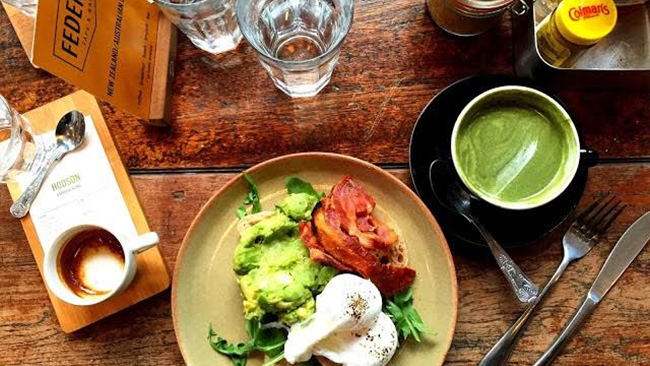 Double 00, Chorlton
I can't talk about pizza (which seems to be a bit of a theme so far…) and not mention my all-time favourite, Double 00. I've written an entire post on why you need to visit, but in a nutshell, their pizzas are AMAZING. Build your own or choose from their specially crafted menu, there's a topping selection to suit everyone (and it's BYOB…). Booking highly recommended as it gets very busy.
To read the full blog with more recommendations, visit Frankie's Weekend